Magnus Pipe
Let's take a look!
What kind of experiment is this?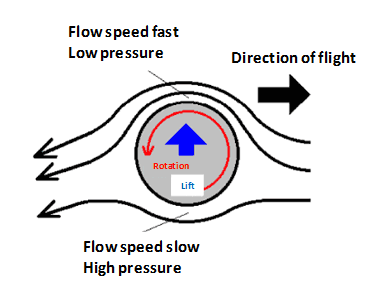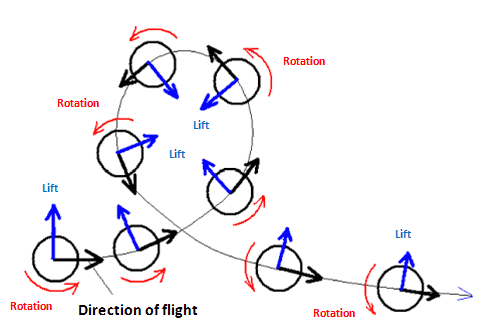 Experimental procedure and explanation:
The "Magnus Pipe" was devised by Professor Masami Fujita (Japan Coast Guard Academy) and inspired by the Magnus Cup.
This device utilizes the lift force created by an object rotating in a flow.
When flown with the rotation depicted in the figure above, the flow speed on the lower side decreases because the direction of rotation is opposite to the flow direction; this increases the pressure. However, on the upper side, the flow speed increases because the direction of rotation is the same as the flow; this decreases the pressure. The difference in pressures between the top and bottom creates a lift, making the object fly.
This lift created on rotating objects in a flow is called the "Magnus effect."
This device has evolved from the Magnus Cup in that it is lighter, smaller, and is equipped with end plates that make the lift force larger. Therefore, it follows a unique flight pattern that loops around in the air. Since the lift force is perpendicular to the direction of flight, the flight path traces a loop when the rotation speed is high enough.
Please see the attached document for details on how to make it.
[Keywords]
Magnus effect, Bernoulli's theorem
[Related items]
Magnus Cup
[Reference]
"Materials and directions" (attached), by Masami Fujita
"Magnus Effect on Flying Pipe with Rotation," by Masami Fujita, Nozomu Kawamura, Takuya Sakamoto and Keiko Okada, Physics Education, Volume 60, Issue 3 (2012), pp. 173–178.
"The Wonders of Flow," Japan Society of Mechanical Engineering, Kodansha Blue Backs pp. 170–173.
"Illustrated Fluid Dynamics Trivia," by Ryozo Ishiwata, Natsume Publishing, pp. 196–197 and pp. 90–95.
Last Update:1.21.2015