Newsletter 2012.4 Index
Theme : "Hydrogen Flow"
Fundamental Characteristics for Open-Jet Flame of High-Pressurized Hydrogen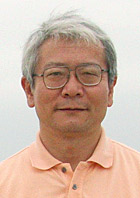 Keiji TAKENO
Mitsubishi Heavy Industries, Ltd.,
Nagasaki R&D Center
Abstract
The utilization of hydrogen for energy use is attractive since the exhaust gas is H2O alone and will spread widely.  In order to promote the widespread use of fuel cell vehicles, supply stations of high pressure hydrogen should be constructed in a city area, based on the safety regulations such as maximum storage amount, layout, material, safety distance, or protection wall.  For the purpose, fundamental data for the open-jet hydrogen flame of high-pressurized hydrogen up to 80MPa have been accumulated.  In this letter, the scale of diffusion flame and the chemical and fluid dynamic structure of flame stabilization are discussed.
Key words
hydrogen, safety, high pressure, diffusion flame, open jet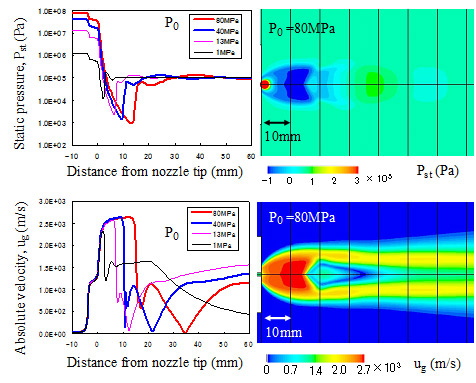 Calculated results of pressure and velocity distribution adjacent to the nozzle outlet when high pressurized hydrogen is spouted from diam.=1mm nozzle
(barrel shock and mach disc are observed).
Last update: 4.9.2012