Sprinkler
Let's take a look!
What type of experiment is this?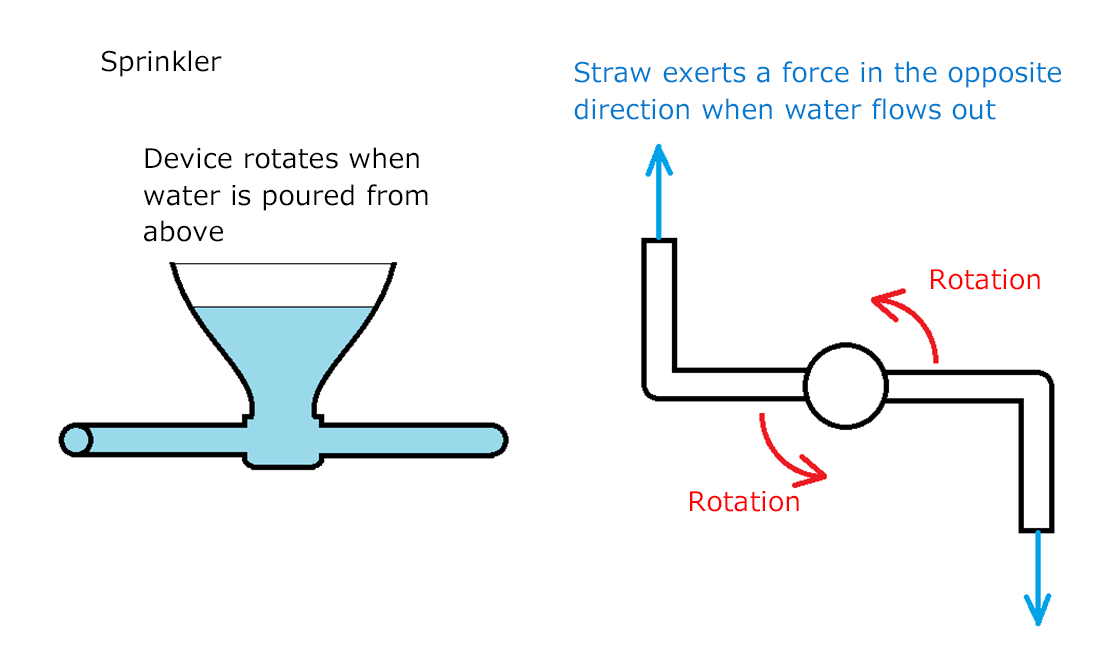 Experimental procedure and explanation:
Make a sprinkler-like toy to use when sprinkling water.
Make two holes in a plastic bottle cap (pin vise and a file used here). This work is difficult, so be sure to do it with an adult. It is difficult to make a hole in the plastic bottle cap, so you can use a paper cup instead (let's try various things).
Insert a straw into this hole and bend the straw.
Mount it on the turntable made in "Turn with a stream of water".
When water is poured from above, water will flow out of the straw and the sprinkler will rotate.
When water comes out of the outlet of the straw, a force acts on the straw in the opposite direction (called action / reaction) and functions to rotate the sprinkler (called moment of force).
It can be dangerous to do handicrafts, so let's do this with an adult.
Water is an important resource. Be careful not to waste water.
[Keywords]
Angular momentum theory
[Related items]
Turn with a stream of water
[Reference]
"The Wonders of Flow," Japan Society of Mechanical Engineering, Kodansha Blue Backs, P114-117
Ishiwata Ryozo,
"Illustrated Trivia Fluid Mechanics", Tokyo: Natsumesha, P170-173
Last Update:3.3.2017