Newsletter 2019.2 Index
Theme : "Mechanical Engineering Congress, 2018 Japan (MECJ-18)"
Active Boundary Layer Control by Jets in a Crossflow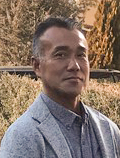 Hiroaki HASEGAWA
Utsunomiya Univ.
Abstract
Flow separation is a mostly undesirable phenomenon, and boundary layer control is an important technique when dealing with separation problems on airfoils. Methods have been devised to prevent this separation, and boundary layer control has been widely used in aerodynamic applications to inhibit flow separation.
The synthetic jet is a method of boundary layer control to suppress flow separation, and synthetic jet actuators have been shown to be a useful tool for flow control in applications such as mixing enhancement, separation control, and thrust vectoring. A typical synthetic jet actuator consists of a small cavity with an oscillating diaphragm on its bottom and an orifice plate on the opposite side. As a result of alternating suction and blowing produced by a diaphragm movement, a succession of vortex rings is produced and propagates away from the orifice. The jet is synthesized by a two-phase cycle composed of suction and ejection.
In the present study, an active separation control system using synthetic jets is proposed and practically applied to the stall control of the NACA0012 airfoil (a chord C of 200 mm and a span S of 200 mm) in a wind tunnel test. In our proposed system, the flow conditions (stalled or unstalled) can be judged by calculating from two static pressure holes on the airfoil upper surface alone. The experimental results indicate that the maximum lift coefficient increases by 11% and the stall angle rises by 4º in contrast to the case under no control (see Fig. 1). It is confirmed that our proposed system can suppress the stall on the NACA0012 airfoil and that the aerodynamic performance of the airfoil can be enhanced. In order to adaptively suppress a stall, the proposed system was applied to time-varying flow fields caused by changes in the angle of attack of the airfoil. Figure 2 shows a time history of lift coefficient when the angle of attack changes. In this example, the angle of attack is varied by α = 0˚ → 19˚ → 10˚ → 19˚ → 0˚ with a rate of change in the angle of attack of ω = 3.3˚/s. As shown in Fig. 2, CL decreases when the angle of attack exceeds 16˚ (( α = 16˚) for the case without control, and does not decrease after issuing the synthetic jets for the case with control despite the increase in the angle of attack. Thus, the results of these tests confirm that our proposed system can sense the precursor of a stall and can completely attain the flow field with no stall under various changes in the angle of attack of the airfoil tasted in this experiment.
Key words
Active control, Boundary layer, Separation, Stall, Synthetic jet
Figures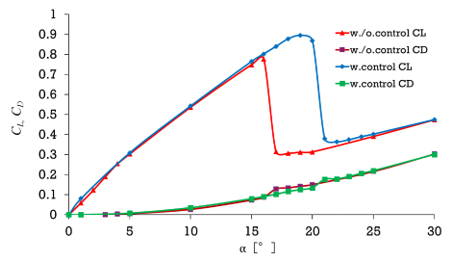 Fig.1 Lift and drag coefficients at Re=1.5×105.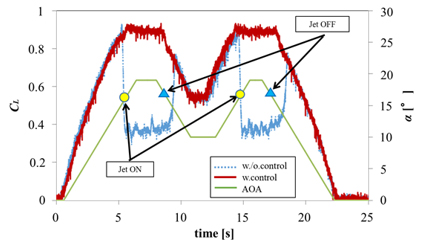 Fig.2 Time history of lift coefficient when our active stall control system operates to the time-varying flow fields (Re=1.5×105).
Last Update:2.22.2019