Newsletter 2016.2 Index
Theme : "The Conference of Fluid Engineering Division"
"A Water Bed, Yasutaka"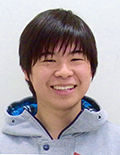 Naoya UENE
National Institute of Technology, Yonago College
Abstract
The number of people having a pet has increased rapidly. In addition, many pets have come to be able to live longer thanks to improvement of medical technology and development of healthy foods for them. On the other hand, however, the number of pets that cannot walk well and cannot move their own bodies because of aging has increased recently. In fact, some of them are suffering from rubbing cloth or bedsore. Therefore we decided to resolve these troubles and make a special water bed where pets can heal.
Figure 1 shows of a photo and 3D model of "A Water Bed, Yasutaka". The mechanism is as follows:
               A hole is made on a black box for a base.
               A speaker is fitted under the bed.
               The sound from the speaker vibrates the water bed.
There are two advantages in this bed. One is that use of this bed can reduce the burden to body which previous water beds have given before. Another is that the bed can provide massage effect by using water pressure and the vibration.
It uses the mechanism that water behavior changes depending on frequency. Figure 2 shows the water behavior by frequency. Massage effect can be obtained by using various patterns of vibrations on this mechanism.
Key words
Water Bed, Water Pressure, Vibration, Pets Goods
Figures
(a) Photo
(b) 3D model

Fig. 1 "A Water Bed, Yasutaka"

Fig. 2 Water behavior by frequency (movie file)
Last Update:2.16.2016